VILNIUS AIRPORT (VNO) INFORMATION
Origin
Airline
Flight no.
Scheduled
Est./Actual
Status
No flight arrivals were found at Vilnius Airport.
Destination
Airline
Flight no.
Scheduled
Est./Actual
Status
No flight departures were found at Vilnius Airport.
Car Hire at Vilnius Airport
UNBEATABLE VALUE CAR RENTAL
Free Amendments | Free Cancellations | No Card Fees




Vilnius Airport - All Information on Vilnius Airport (VNO) Vilnius Airport
Rodūnios Road 10A, Vilnius, Lithuania
phone +370 612 44442
phone+370 612 44442 (Lost + Found)
emailinfo@vno.lt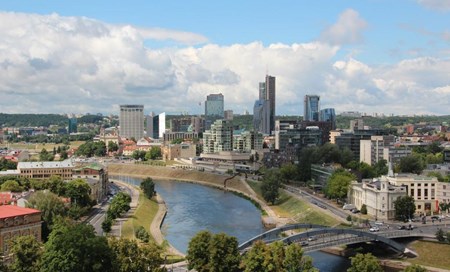 Just 7 km from Lithuania's capital, Vilnius Airport (VNO) offers passengers an easy-to-navigate gateway into this beautiful Eastern European country. Lithuania has three airports, the other two being Kaunas and Palanga. Together they served ca. 6.5 million passengers (outside of Covid 19 conditions). In 2020, they collectively handled 1.8 million passengers. Vilnius Airport is by far the busiest, responsible for the safe and efficient handling of normally 5 million passengers.
The single terminal building is a hub for several well-known airlines and provides air travel to more than 60 destinations. Among them are Amsterdam, Berlin, Copenhagen, London, Minsk, Oslo and Warsaw, flights provided by Wizz Air, Lot Polish Airlines and Air Baltic, among many others.
The terminal has three floors: Floor 1 handles both Arrivals and Departures, Floor 2 and Floor 3 are only for Departure passengers' use.
VNO has 5 car parks close to the terminal. P4 is a long-term car park with over 700 car parking spaces just a short walk from the terminal. P4 offers covered parking in a secure environment. 
All short-term parking at Vilnius Airport is handled by P2, P3 and PC. In the center of PC, passengers can be dropped off or collected during a maximum 15-minute stop – parking is here only permitted for that duration once every 3 hours. 
The official address of Vilnius Airport is: Rodūnios Road 10A, LT-02189, tel +370 612 44442. According to Wikipedia's page, the airport's coordinates are 54°38'13"N 025°17'16"E.
Arrivals, Departures and Airlines at Vilnius Airport
Car rentals are available at Vilnius Airport from car parking facility P4, where Enterprise, Europcar, Hertz and Sixt have their offices.
Ground Transportation Options at Vilnius Airport:
Taxi ranks are in front of the terminal. A taxi into Vilnius Old Town costs from 10.00 Euros, the initial fare being 1.45 Euros. There are frequent buses to the city from the airport. Vilnius Airport also has a train station adjacent to the airport terminal.
Departure passengers with children should head to Floor 1, if they seek baby rooms, which are located before Departure's security screening area, in the Schengen Gate area A6 and in Baggage Claim, sections B and C. On Floor level 2 families will find a great play area just after the security screening area. Magazines, Wifi and comfortable seating for parents, and some 80 sqm play area for kids!
Heinemann Duty Free shopping is located in the aviation security area, and currency exchange desks are in the Arrivals hall, Level 1 and the main Departure's hall.
Hotels near Vilnius Airport
There are a number of hotels to suit all budgets and requirements at or near Vilnius Airport.
Parking at Vilnius Airport
See options for parking services at Vilnius Airport.
Additional Services and Amenities at Vilnius Airport
At Vilnius Airport you will find the usual array of bars and restaurants, airport lounges and shops.
Things to do in Vilnius
There are a number of activities to suit all ages and interests in the region - see a selection of tourist activities in Vilnius, Lithuania.
Services at Vilnius Airport
Useful Information about Vilnius Airport